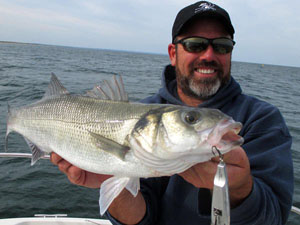 Sea Fishing with Braided

Braided line only has advantages when used correctly when sea fishing

When fishing for predatory fish, the braided line has almost become a matter of course over the last few years. But nylon is still widely used in sea fishing because it has relatively more advantages than in freshwater predator fishing. However, braided line is also becoming more and more popular in sea fishing because it can offer many advantages. But there are some points that you should keep an eye on when using it. In this article we explain when and why you would want to use a braided line when sea fishing and what you should pay attention to.
Advantages of braided line for sea fishing

Sea fishing can be understood to mean various fisheries, but the most important three are static fishing from the beach, wreck fishing and spin fishing from a boat, jetty or pier for predators such as sea bass or mackerel. You can use braided line with all three types of sea fishing.

Braided line for beach fishing

Spiderwire Stealth Smooth 8 Red
Spiderwire is our favorite braided line for sea fishing When fishing from the beach it is important that you have good casting distance as you need to be able to cast over the surf. It is not always necessary to have to cast far from shore, but often further is better. A braided line is much stronger than a nylon line, so you can use a thinner diameter for the same pulling power. This results in a smoother fishing line that allows you to cast further. Another big advantage is that the current has much less grip on the line because the diameter is thinner. In addition, braided line has the advantage that it has no stretch at all, so that you can immediately see even the smallest bites over a large distance in your rod tip.
However, we recommend using both braided line and nylon when beach fishing. Because you use considerable pieces of lead when beach fishing, there is a lot of force on the line when casting. Because braided line has no stretch, the blow is not well absorbed, as is the case with nylon. That is why we recommend using a braided mainline with a few meters of thick nylon. This then acts as a shock leader and absorbs the impact of the lead. A good braided line for beach fishing is the Spiderwire Smooth 8 Yellow. This line is made of 8 thinner lines and woven together into a line. This makes the line very flexible so that you can cast very far. For beach fishing 0.17mm is usually sufficient, but you can also take 0.20mm to be on the safe side. If this line is above your budget, you can also look at the Spiderwire Dura 4 Yellow. This is also a yellow braided line but from 4 strands. This makes the line less flexible, but the price is also considerably lower.
We then recommend using a few meters of Spro Salt leader as a pre-starter. This is a strong nylon line that can absorb the blows of the lead well. You can safely take a diameter of 0.35 to 0.45 mm.

Braided line for wreck fishing
Wreck fishing is done from a boat where you fish straight down past the wreck. The wreck is completely overgrown with mussels and other sharp things such as rusty steel that cuts through a braided line. Because wreck fishing sometimes takes place at great depths, the current has a great grip along the entire length of your line. The depth also ensures that you no longer feel bites with a nylon line because they are filtered out over the entire length by the stretch in the nylon. That is why a braided line is definitely recommended for wreck fishing, but with a large nylon lead. Because in this way the majority of the line is much thinner than if you were to use a nylon main line, the current has a lot less grip on your line and you won't easily get into trouble with your neighbour.

Because you do not cast in when wreck fishing, you can also opt for the Spiderwire Dura 4 Yellow because you do not have to cast in anyway and the flexibility is therefore less important.

Cast fish for bass, mackerel and other predators
When fishing sea bass between rocks you must use a nylon fore
When casting for predatory fish at sea, a braided line has almost all the advantages that you also have when fishing for predatory fish in freshwater. The fact that the line has no stretch simply means that you feel every bite and therefore catch much more than with a nylon line. There is no need to use a lead hit to absorb the blows of the lead unless you are really casting with 100 grams. It is true that braided line cannot withstand stones, so if you go fishing in a place with many stones such as a pier, pier or the waterway, then a lead of +- 3 meters recommended.